!-Local Time Clock widget - HTML code - localtimes.info -->

Portland

<

!-end of code-->

         Life On The River

Live sights and sounds of the Columbia River in Portland from 8 PTZ cameras featuring ducks, geese, birds, my barking dogs, other wildlife and North West weather info.
It is fall and unfortunately we had few hatchlings this season. It may be due to the increase this year in the raccoon population or the higher than normal warter temp. We do have a few duck families that like it here in our cove and will most likely stay the winter with us. Our beach cam will continue to bring you activity on our beach including fishermen and water enthusiasts. .

Questions and comments are welcome: mikewjoseph@gmail.com

Many thanks to Camstreams.com for the cool free site

Special thanks to Katie D for her generous donation of the wonderful wind chimes and to Barb W. for the beautiful bird feeder flag.

Swim with the ducks was done with a RC duck decoy

and a camera mounted on the head.

Large Visitor Globe

YOU ARE HERE

E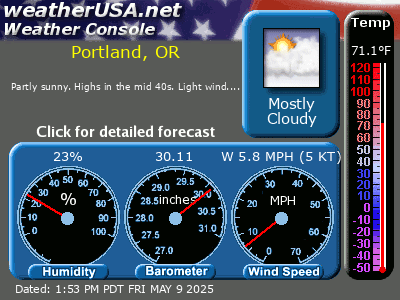 ll

Click here

<